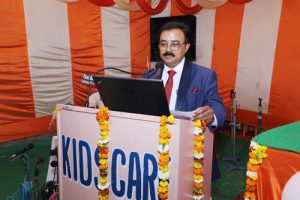 Mr Ashu Goyal, who is B.tech and MBA, has 20 years of vast experience in marketing and operations in the field of education. In the past he has worked with institutions of repute like Aptech, Educomp, ICFAI etc. He has won many laurels at national and zonal level. He helps KIDS CARE in its financial, admin and marketing operations.
Our Vision
We at this school believe that each child is unique and needs nurturing to unlock their potential. Our aim is to bring out their best and grow them into responsible world citizens.
Our Mission
We are committed to enhancing education by creating a vibrant chain of educational institutes across the country. Our aim is to create life-long learners who appreciate education and believe in creating value wherever they go. We also strive to create an engaging and collaborative model to invite participation of students, teachers, parents, investors and the community in general.