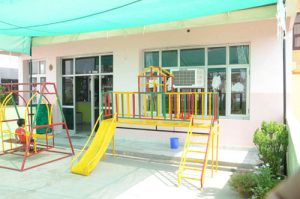 KIDS CARE School was founded by Mrs. Anu Goyal. The founder of the school has one line vision of "matching KIDS CARE at playway with the KIDS CARE at home".
The school and admin office is located in the heart of the city at Birla Mill Colony, Mall Road, Bathinda with large spacious premises that includes play area, activity rooms, class rooms, admin area etc. Child care and basic teachings through playway technique not compromising on his/her safety and security is our prime motive. Well qualified and experienced staff handles the child's requirements. Special attention is given to hygiene and cleanliness in the premises so that a child gets a healthy environment.
It is a well-established fact that the competence of a preschool curriculum has a significant impact during the child's early developmental years. It is this segment of early childhood learning and development that KIDS CARE School caters to.
As the words itself suggests, KIDS CARE refers to early childhood and early life growth in the development of child. As education is a phase of introducing children to fundamental learning through the use of a medium that is engaging, less straining and more recreational in nature. We, realise that the child's time spent with us is vital to initiate his/her intellectual and spiritual growth. We make a sincere effort in ensuring that the quality of Pre-school Education is upheld across each of our branches through enrolling the best and most experienced Educators and employing the most innovative teaching aids, both classroom-study and outdoor-activities based.
We pride ourselves on the fact that within a span of 16 years. However, we have made sure that our expansion hasn't come at the cost of making compromises on the quality of our play school program.